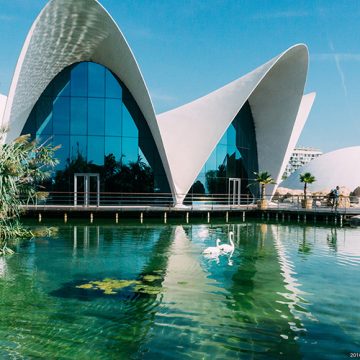 OCEANOGRAFIC IN VALENCIA
The Oceanografic in Valencia excites with surprising insights. Situated in the spectacular surroundings of the City of Arts and Sciences it is the largest aquarium in Europe.
Its avant-garde architecture creates a magnificent environment where the most important marine ecosystems have been faithfully reproduced.
OCEANOGRAFIC INSIGHTS
Each iconic building of the Oceanogràfic in the City of Arts and Sciences presents a unique aquatic environment. There are the Mediterranean, Wetlands, Temperate and Tropical Seas, Oceans, the Antarctic, the Arctic, Islands and the Red Sea as well as the Dolphinarium.
OCEANOGRAFIC TURTLES
Turtles swim the Mediterranean. Occasionally one needs assistance and the Oceanogràfic of Valencia is proving highly valuable to turtles in distress.
Their experts also cooperate effectively with other specialists from different conservation centres on both the Atlantic and Mediterranean shores.